03 Aug 2023
Jahresbericht 2022 von The Document Foundation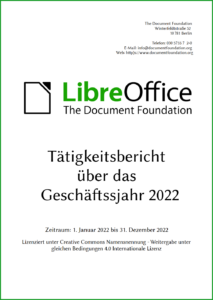 Der Jahresbericht von The Document Foundation (TDF) beschreibt die Aktivitäten und Projekte der Stiftung, insbesondere in Bezug auf LibreOffice und das Document Liberation Project.
Wir haben Auszüge aus dem Bericht 2022 hier im Blog veröffentlicht, nun ist die vollständige Version im PDF-Format auf dem Nextcloud-Server der TDF in zwei verschiedenen Versionen verfügbar: niedrige Auflösung (8,2 MB) und hohe Auflösung (57,4 MB). Der Jahresbericht basiert auf der deutschen Version, die den Behörden vorgelegt wurde.
Das Dokument wurde vollständig mit kostenloser Open-Source-Software erstellt: Schriftliche Inhalte wurden mit LibreOffice Writer (Desktop) erstellt und gemeinsam mit LibreOffice Writer (Online) modifiziert, Diagramme wurden mit LibreOffice Calc erstellt und für die Veröffentlichung mit LibreOffice Draw aufbereitet, Zeichnungen und Tabellen wurden mit LibreOffice Draw erstellt oder modifiziert (aus alten PDF-Originalen), Bilder wurden mit GIMP für die Veröffentlichung aufbereitet, und das Layout wurde mit Scribus auf Basis vorhandener Vorlagen erstellt.
Wir von der The Document Foundation sind allen, die zu unseren Projekten und Communities im Jahr 2022 beigetragen haben, sehr dankbar – ohne Sie wäre das alles nicht möglich gewesen!