27 Nov 2020
Mach mit und triff das TDF-Team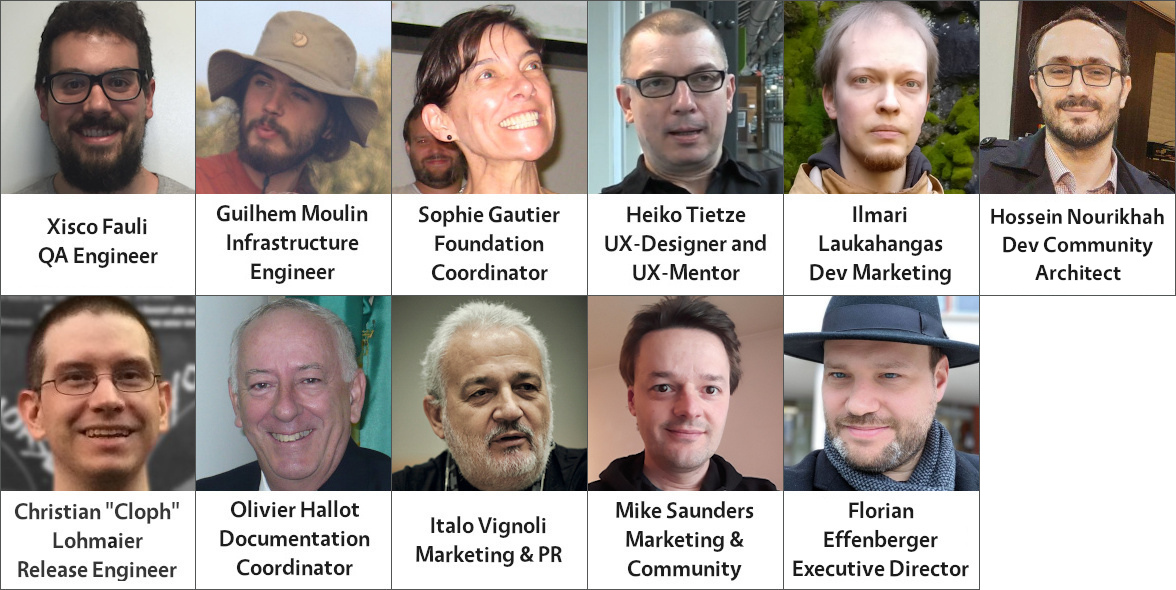 Die Teilnahme an einem Open-Source-Softwareprojekt wie LibreOffice ist eine tolle Möglichkeit, Deine Kenntnisse zu erweitern, Erfahrungen für zukünftige Karrieremöglichkeiten zu sammeln, neue Leute kennenzulernen – und Spaß zu haben!
Um Dir in unserem recht großen und etablierten Projekt etwas Orientierung zu geben, möchten wir Dir das kleine Team von The Document Foundation, der gemeinnützigen Organisation hinter LibreOffice, vorstellen. Die meisten Teammitglieder beaufsichtigen bestimmte Teilprojekte in der LibreOffice-Community:
Xisco Fauli – QS-Ingenieur, betreut das Qualitätssicherungsprojekt
Guilhem Moulin – koordiniert das Infrastruktur-Team
Sophie Gautier – koordiniert die Arbeit der Stiftung sowie die Lokalisierung
Heiko Tietze – Design und User Experience
Ilmari Lauhakangas – Entwicklungsmarketing, Einführung neuer Mitwirkender
Christian "Cloph" Lohmaier – Release Engineer
Olivier Hallot – betreut die Dokumentation
Italo Vignoli – Marketing & PR
Mike Saunders – Marketing und Öffentlichkeitsarbeit
Florian Effenberger – Geschäftsführer bei TDF
(Vielen Dank auch an Stephan Ficht, der uns bei TDF als Verwaltungsassistent unterstützt.)
Dies ist übrigens nur das Team von The Document Foundation. Die LibreOffice-Community besteht aus Hunderten von Menschen! Die meisten neuen Funktionen werden von Entwicklern in unserem Ökosystem sowie Freiwilligen implementiert.
Jetzt wo Du weißt, wer wir sind, klicke hier, um mitzumachen und Dich an unseren Projekten zu beteiligen!
(Danke an Sabine Achilles für die Übersetzung der Originalversion)